1CRM FEATURES
Everything You Need to Run Your Business
Mobile CRM
Instant Business Information, Anywhere.™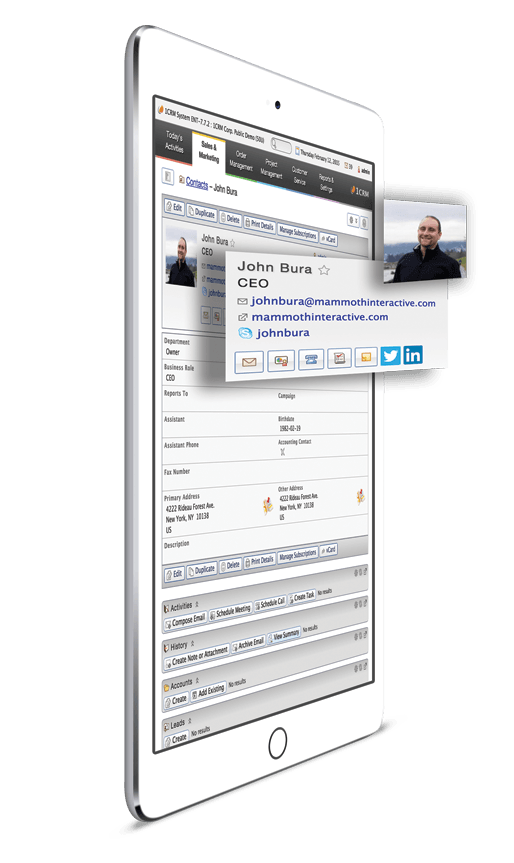 Mobile CRM SOFTWARE
Access your 1CRM anytime, anywhere, and from any Windows, Mac, iOS, Android or Windows Phone device. Create custom screen layouts for an optimized mobile experience, or simply access the standard 1CRM system. On tablets, the sidebar auto collapses to maximize your work area, and bandwidth requirements are minimized using advanced caching techniques.
1CRM iPhone App
1CRM Mobile features optimized mobile access to your leads, contacts, and accounts. Now you can easily track opportunities, take notes, connect with clients, create tasks, and manage your projects from anywhere. All changes are instantly visible in the 1CRM web app – providing your colleagues with access to real time information. Learn More »
CRMSYNC™
On Android or iOS phone & tablets, you can use your built-in apps for Contacts, Calendar and Reminders / Tasks to view, update, delete or add new items in your 1CRM system – whether or not you are connected to the Internet! Any changes you make on your phone or tablet will sync to 1CRM the next time you are online. Also supports Mac OS X and MS Outlook. Learn More »
Ready to Start your 1CRM Journey?