CRM Plus Order Management,
Service, Projects, HR & More!

Instantly Share Information
Across All Departments!

Full CRM Capability On-the-Go. Create Quotes, Expense Reports and More!

Monthly/Annual Subscriptions
Get Your Free Startup Edition Today!
Complete Business Management
With integrated CRM, projects, billing, sales & marketing, reporting and collaboration, 1CRM covers all the bases to ensure that you only need one software solution to manage your entire business.
One System - Many Industries
Whether you work in manufacturing, high tech, retail, or real estate, 1CRM is the custom-fit CRM solution you've been looking for. Adapting to any industry with its uniquely flexible design, 1CRM saves time and helps you do a better job.
Collaborate and Bring Remote Teams Together
Bring remote teams together effectively with a single CRM system to manage your business. Securely access your data anytime, anywhere, and from any Windows, Mac, iOS, Android or Windows Phone device.
PERSONALIZED CRM
1CRM is an open source and customization friendly CRM that you can customize to suit your business needs. Modify your screen and print layouts, menu system, dropdown options, and user interface theme & colours. Create multiple personalized dashboards and a custom mobile experience!
Take your CRM to the next level with your own custom modules, drag 'n drop custom print layouts, and 18 types of custom fields!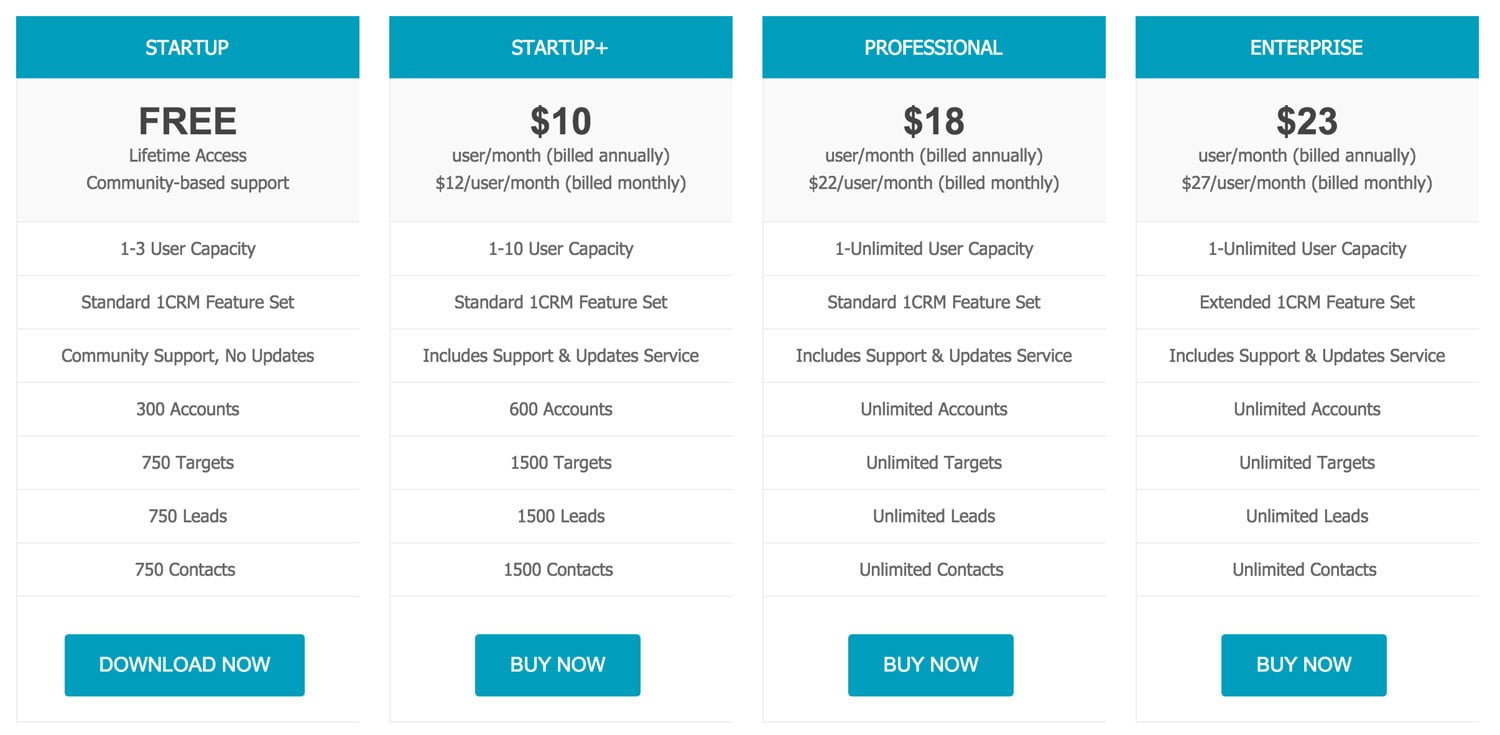 CRM SOLUTIONS FOR ANY BUDGET
A CRM every business can afford, 1CRM features CRM solutions for every budget. From the free Startup Edition to the advanced Enterprise Edition, there are no forced upsells and always clear pricing.
Don't need many users? No problem! With either On-Premise Software or the 1CRM Cloud Service, you can start with just 1 user and add more as needed. Wary of long term commitments? Use 1CRM Cloud month-to-month! Just getting started? Use 1CRM Cloud Startup Edition for only $8/month!
″

"We know exactly where all our orders are at any time. In the CRM we particularly like being able to tie emails to a variety of options such as a contact, a project that we are working on or a marketing effort."

″

"1CRM provides Funhaven with the ability to develop a highly customized sales management system that works the way we work, and that provides valuable business insights on key performance indicators that are immediately actionable."

″

"Everyone is devoted to giving you the best usage experience possible. From the CEO to the last employee, all are easy to reach."

″

"There are very few times when you will truly use a fantastic product. After using one 1CRM, I can say that I truly love 1CRM!"